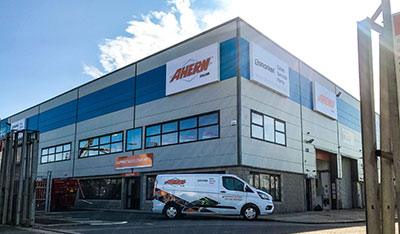 Ahern Ireland is the exclusive provider of sales, service and spare parts for Snorkel™ mobile elevating work platforms for Northern Ireland and the Republic of Ireland.
With a highly experienced team, Ahern Ireland can assist customers in all sectors to find the right lifting equipment solution for most work at height applications. They are dedicated to providing unbeatable levels of customer service, either in person or via their dedicated hotline.
Operating from a newly renovated 2,286sqm facility in Rathcoole, Dublin, Ahern Ireland stocks a significant inventory of new machines, ready for immediate delivery or collection. A fully-equipped workshop provides equipment repair and rebuild services, and an on-site warehouse is stocked with genuine OEM spare parts for collection or fast delivery.
Ahern Ireland is committed to providing the best in customer support, throughout the working life of the equipment. Highly qualified, OEM-trained field-service technicians are on the road in Ireland, providing a fast response to customers, including breakdown services, parts delivery and product familiarization and training. This is backed by a friendly, dedicated sales, parts and service team located at the facility in Ireland, contactable by phone or e-mail.
Part of the Ahern International division, Ahern Ireland is owned by Don Ahern. Ahern International operates a number of direct sales and service operations globally, including Ahern Australia, Ahern Japan, Ahern Chile, Ahern Canada and Ahern Deutschland.